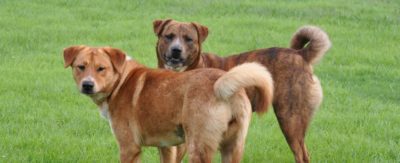 Kimber & Quinn (a mom and daughter pair) have waited at our adoption center almost a year for a forever home. We have had adopters interested in just one of them, but couldn't bear to split them up. They were part of our Personality Paddock program, started a few years ago to save the lives of dogs who show fear, aggression, and other bad behaviors in shelters that cause them to be labeled "unadoptable".
Kimber & Quinn were 2 such canines who were scared to death at the cityshelter. They came to the Lodge "unadoptable" and after 4 weeks of fresh air, freedom, human interaction, and love, started showing some promise smile emoticon After they started coming around, we mixed them in with the other dogs at the Lodge and they did GREAT, but no one wanted BOTH of them…until NOW smile emoticon
Thanks to all the amazing and dedicated volunteers who spent countless hours caring for these two, taking them to vet appts and adoption events, walking them, feeding them, reading to them, and loving on them…and thanks to donors who helped us build the Personality Paddocks…and thanks to Huntsville Animal Services for not giving up on them and the other hard cases we have taken in (some of whom we STILL have)…and thanks to Kimi for adopting them both and giving them time to adjust to her home, life, and schedule…
TWO LIVES TRANFORMED BY SHEER DEDICATION and LOVE!
We always need patient, dog-loving volunteers who will work with these behavior dogs and help them blossom. If you are interested in this very rewarding work, please fill out a volunteer form below and we will help you get started! Since starting this unique program, all dogs selected for our Personality Paddock program except 2 have overcome their fear or other bad behavior and become adoptable smile emoticon