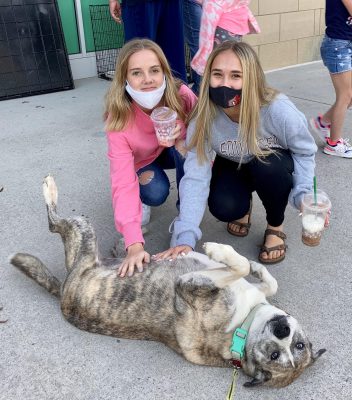 2020 has been a year of many changes for every single one of us!  However, throughout the pandemic, A New Leash on Life continues to focus on supporting our North Alabama shelters, because thousands of shelter pets' lives are ended daily, despite there being homes for them in our communities. 
Ending up in a shelter is the NUMBER ONE CAUSE OF DEATH IN DOGS AND CATS, creating what we have called a PETdemic! So with the pandemic causing limited volunteer availability, reduced funding, the closing of our lifesaving thrift stores for several months, large scale adoption event cancellations, and cancellation of our annual Woofstock fundraiser, we are reimagining ways to grow our lifesaving mission!  And included in that mission, along with lifesaving, is preventing unwanted births through spaying and neutering low-income families' pets.
Since October 2004, we have saved over 19,000 lives and counting, largely from shelters!  Our goal in the coming year is to continue expanding A New Leash on Life's outreach to help the many rural Alabama communities who don't have tax dollars committed to helping the homeless pets get out of  their shelters alive.  Those are the pets who most desperately need our program.  It takes many volunteer hours and a huge financial commitment to travel and save lives on this scale.  So this is what you can do to help …TAKE FIVE to GIVE FIVE (#T5G5)!
Would you take five minutes to donate five dollars to help us help more of THEM this year? Every dollar donated will directly pay for animal care and veterinary bills (more than $600,000 in 2020). More than ever before, this crazy year has taught us that it takes every one of us working together to make a difference. Our program's rescued dogs, cats, rabbits, horses, donkeys, guinea pigs and more thank you for your support! 
Facebook is MATCHING EVERY DOLLAR from 8am to midnight today so please donate and please SHARE this message with your friends and family! Thanks to all who GIVE their time and resources to help us SAVE THEM ALL! We hope you enjoy this video of some of our 2020 befores and afters!
#T5G5…Please Take Five to Give Five! Peace, Love, and Life to ALL!
Debbie Dodd
www.facebook.com/anewleash.org
www.instagram.com/anewleash
www.anewleash.org/donate