Dear Friends,
First, I want to THANK YOU for your support, time, and love over these eleven adventuresome years…you have kept us going, and we truly could not accomplish anything without YOU!
Every single day at A New Leash on Life, we celebrate a strong bond. Sometimes it is called the Human-Animal Bond. I don't like to call it that because humans are animals, too!  We are all part of the same animal kingdom, and all are worthy of respect, love, and LIFE! But, whatever you call it, the bond we share with the rest of the animal kingdom is what really drives us to make the world a better place!
We have been working hard over these last eleven years to rescue, improve mental and physical health for, spay/neuter, and adopt as many homeless dogs and cats as possible to homes who will love and care for them as we have. Each year, we celebrated saving even more lives than the year before, but we still weren't saving enough!
We knew all along that THOUSANDS of dogs and cats were losing their lives in the city shelter, and we wanted to save them. What we didn't realize, was that euthanasia in municipal shelters was, and still is, the leading cause of death among our companion animals across the US. The LEADING CAUSE OF DEATH! Not cancer, hit by car, or old age, …, euthanasia in shelters!
Ever since that epiphany, about 3 years ago, we have been urgently working harder than ever to end that trend in our great city of Huntsville. We have helped start several new, life-saving programs for our city, and we have started hosting Huntsville's first ever BIG WHITE TENT EVENT four times a year, which has saved hundreds of lives. We have pushed a philosophy that every life matters. We have assessed, marketed, and adopted out thousands of dogs and cats from the city shelter who might have otherwise lost their lives in the shelter. And we want to move on to help other, less fortunate communities do the same! Young, old, healthy, or sick…thousands of dogs and cats are living with their forever families TODAY because of your support and the wonderful, life-saving volunteers of A New Leash on Life!
Speaking of volunteers, I have never worked with more devoted, determined, dependable humans than the volunteers of A New Leash on Life. They will restore your faith in humanity, if you have lost it. We are lucky to have over 125 unique and amazing humans making a HUGE difference in the lives of homeless animals. Foster homes, adoption center (Lodge) volunteers, thrift store (Market Place) volunteers, adoption event volunteers, transporters, photographers, social media volunteers, office workers, event coordinators, and the list goes on. Every single one shares in the work and success of A New Leash on Life!
Our goal this year was to save 1500 dogs and cats, an increase over 1026 pets saved in 2014. I am happy to report that we surpassed that goal before December began, and are on our way to 1600! 936 dogs and 589 cats makes 1525 lives saved in 11 months…and there is still a month to go!
We like to keep things interesting and fun. After all, this is a business that can be hard on the heart. We have an enormous amount of serious work ahead of us for THEM! So with your continued support, time, and love, we will forge ahead until we SAVE THEM ALL!
Love and Respect for the Whole Animal Kingdom,
Debbie Dodd, Founder & Director
Your Support Saves Animals Like Mary Kay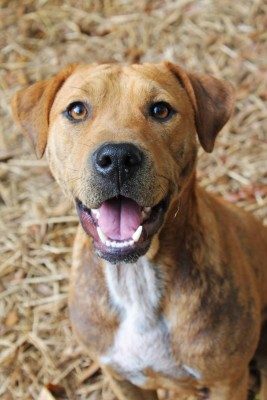 When you become a foster parent you are truly a hero to the animals, giving them a chance at recovery that can be difficult in a shelter environment. Life at a shelter for any animal, especially if they are sick or injured, is very stressful. Sharing your home with an animal in need gives them the specialized care and attention crucial to their healing. By fostering dogs and cats who have been at A New Leash Lodge, our adoption center, you make space available for us to pull animals from HAS and the community, which allows us to save more animals from bad situations.
Thank you to our many, amazing foster homes for enduring the trials of housebreaking and litter training, the hours of worrying over that kitten or puppy who just isn't thriving, the stress that your own pets endure while you are caring for this "stranger" in your home, the frustrations of showing those sweet but under-socialized darlings how to be members of a family, and all of those crazy moments in between.
You are amazing. Your ongoing and tireless dedication is an inspiration to us all.
If you are interested in learning about becoming a foster, please email us at serena@anewleash.org for kitty cat fostering or tiffany@anewleash.org for puppy dog fostering.
Volunteer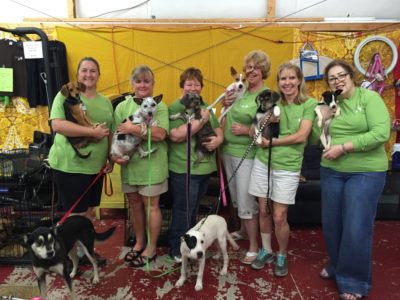 We rely on our dedicated volunteers to walk dogs, help build their confidence, feed and play with our cats, and answer the public's questions about pet education and adoption. We are always in need of volunteers who are committed, caring, and ready to make a difference in the lives of animals and adopters. By joining our team of volunteers, you will be helping to place as many adoptable animals as possible into loving homes, while positively impacting the community.
Want to volunteer? Please email our Volunteer Coordinator  karen@anewleash.org.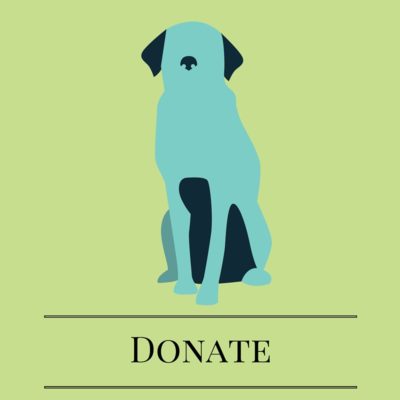 More Ways to Help
Are you one of the more than 60% who will do their holiday shopping on line? If so, please visit smile.amazon.com and make A New Leash on Life your designated charity. A portion of your purchase will help us with our life saving efforts. While you are there, check out our Holiday Wish List and help our dog and cat residents at A New Leash Lodge.
You can also assist us by following us on Facebook and Instagram and sharing our posts on your social media feeds. The more we can get our homeless pets' pictures and stories shared, the more likely they are to get adopted.
Donate Now
15X6= Puppy & Kittypalooza
When it rains it pours! Over the course of the last month, we have taken in 6 pregnant or nursing dogs with a total of over 60 puppies and over 50 kittens!
Most of these babies will be ready for adoption the week before Christmas with the remaining being available for pre-adoption (before spay/neuter at 8 weeks)! The puppy litters are named after themes, including the Country Music Stars, NFL Teams, the Nature litter, and Game of Thrones. If interested in adopting a puppy or kitten, please fill out an adoption form on our website, www.anewleash.org. The Adoption Form pawprint is at the top of the home page.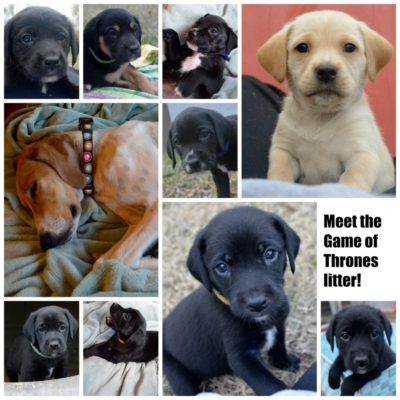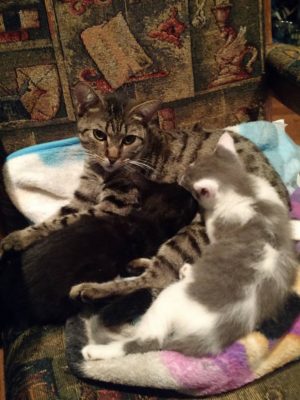 Lodge News
Did you know we have an adoption center called A New Leash Lodge at 2676 Dug Hill Road that currently houses over 50 cats and dogs? With the assistance of our amazing volunteers, we have been able to expand the Lodge hours to allow more time for potential adopters to visit our Lodge residents. Serena and Diane, along with many volunteers, have worked diligently to maintain the grounds and make the Lodge a safe, comfortable spot for the residents until they find their forever homes. Volunteers are always needed to help feed, walk, socialize, and bathe the residents as well as help maintain the property. If you are interested in helping, please contact our volunteer coordinator karen@anewleash.org.

We would like to turn Giving Tuesday into Giving Every Day! Giving is not just about money…it's about real GIVING. The gift of time is one way you can give once or on a regular basis. Spend time with our dogs and cats at the adoption center today, or any day, and that will make a positive difference for THEM while they are awaiting a forever family to sweep them off their paws!
We currently have 3 dogs at our adoption center who need to learn to trust. They have severe anxiety when it comes to humans, but all are making slow progress. None are aggressive or biters. The goal of earning a fearful dog's trust is a patient, kind, long-term kind of goal that cannot often be accomplished over days or weeks, but sometimes takes months or years. In pulling the fearful dogs from the city shelter, to prevent them from losing their lives, we acquire dogs like this who need our help, our time, our empathy, our patience, to learn to trust us. You can be part of that solution…we will show you how.
Just come to our adoption center with a good book. We will sit you in a comfy chair close to the dog, and you can read your book aloud to them. It makes a difference every time they have a positive, non-confrontational experience with a human. They hear your voice. They listen and learn. But what they learn is much different from what we learn from reading. They learn that humans are safe and not going to pursue them. They learn that being in the same room or yard with us is not a frightening experience. They learn slowly, but well, that we love them and want to share their pain, so that eventually, we can take the pain away. TRUST comes from these short, positive experiences they have with different humans.
So we need lots of different humans to accomplish this goal for THEM, which will allow us to save more who are really hurting inside. Help us help them in this simple, yet effective way
A New Leash Lodge and location
2676 Dug Hill Road
Monday -Thursday – 2:00PM – 6:00PM and Friday 11:00AM – 6:00PM or by appointment
Market Place