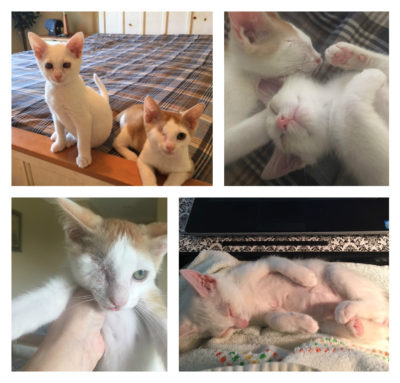 Pirate and Lefty suffered from a severe virus that attacks the eyes, and it went untreated for too long 🙁  When A New Leash on Life was called in to help them, we sent them immediately to Dr. Nelms, our favorite vet opthamologist, where they have been treated like royal felines!
Pirate (orange/white) ended up losing one eye, but can see perfectly out of the other eye to both play attack and take care of his brother, Lefty, and guide him through life.  Lefty (all white)got to keep both of his eyes, but he can only see movement and shadows. He needs eye drops and the vet says that over time he will improve but never have good vision.
These two are now pain free and LOVING LIFE and EACH OTHER and we WILL NOT SEPARATE THEM!  They really need each other and have been through so much together, that we have promised them we will keep them together until a forever home comes along for BOTH!
Adoption fee is $100 together, and both are fully vetted.
Please share this story with all the compassionate humans you know in hopes that the right person sees this and decides they can't live without these two sweeties!