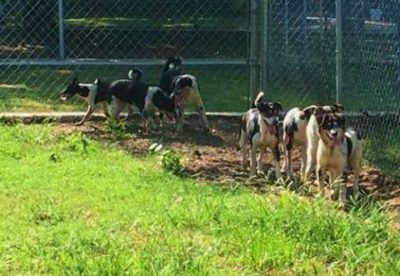 Want to help a dog who has been completely confined inside a house for 3-5 years with 10 other dogs, walking on 2 feet of feces and urine that has been packed down and never cleaned? That happened right here in Huntsville. Their owner didn't live there, but went by to feed them once a day. A few weeks ago, these Aussie mixes got out of that awful place that had become their comfort zone for so long, where they were never allowed outside. 3-5 years! We are thankful for Huntsville Animal Services removing them and for asking for our help to rehabilitate them so they won't have to die.
Two years ago, we started our brand new program Personality Paddock program by building open-air 35×50 ft and 25×100 ft grassy paddocks to house dogs from the city shelter who are about to be euthanized for bad behavior. We have learned from years of rescuing, that you cannot assess a dog's behavior (good or bad) successfully in a stressful shelter setting. They just don't show their true personalities in that scary, caged setting. All but 1 of the dogs we have pulled to date have been successfully rehabilitated after they had adequate time to relax and interact with our volunteers…and are adopted!
So HAS employees brought these hoarding dogs to our Lodge last week so that we can watch them learn a new, free way to live! It's exciting and it really is what we live for…helping pets who have no idea how good life can be 🙂
This group of dogs now has a heated and cooled room with a doggie door out to a very large paddock.
Here's where we need YOU! We need more VOLUNTEERS to come out and just BE with them. You can sit in a comfy chair and read or sing…or walk around and scoop poop…or climb a tree…whatever you want to do. They need to be with many, different people so they can learn, adapt, and grow…and get adopted. Here is the link to our volunteer formhttps://anewleash.org/volunteer/volunteer-application/
We also need DONATIONS of dog food and money to care for them. Our website, www.anewleash.org, has a DONATE tab or you can send a check to ANLOL, 707 Andrew Jackson Way, Huntsville, AL 35801.
Jump In! Together, we can SAVE THEM ALL!