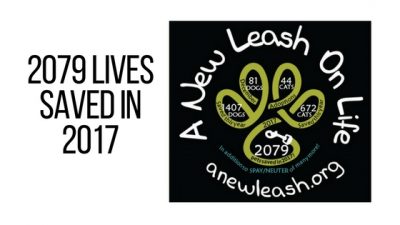 Looking back at 2017…what a phenomenal year it was! I am particularly inspired by the courage, compassion, and strength of my impressive teammates and the endless accomplishments made every day for the animal kingdom.
Our goal for 2017 was to save over 2000 lives, and we saved 2079 …672 cats and 1407 dogs! Those 2079 lives came from North Alabama kill shelters, the streets of North Alabama, owners who could no longer care for them, and some who were displaced by Hurricanes Harvey and Irma. We are also extremely excited about the new partnership we started with Marshall County in 2017 to spay/neuter their homeless pets with revenue generated at our two thrift stores.
Hundreds of our 2017 success stories were pets who needed much more than just routine vetting like spay/neuter, deworming, vaccines, etc. Many were seniors needing testing, dentals, medicines, and other expensive procedures stemming from years of neglect. Others were badly injured and needed quick, extensive surgeries. And yet more pets were fighting heartworm disease, kidney/liver issues, parvo, cancer, etc. requiring substantial vet care and TLC. In addition to those, 153 litters of kittens and puppies were welcomed into New Leash foster homes last year, some with a mom and some without. We are blessed to have a community who values the lives of all animals and supports our work so we can pay our vet bills and stay in business to keep saving lives!
To SAVE THEM ALL is within our reach. We see the world moving in that direction every single day. Yes, there are still many fights to fight. But with each passing day, there are more hands and feet and HEARTS making progress on the ground…all for THEM! Thanks to all of you who are part of the solution, whether you have adopted a homeless pet, donated your time, belongings, or money to the cause, fostered a homeless pet in need, or helped animals in any way.  You have helped make the world a better place for THEM and for US!
Our animal friends fill us with joy and inspiration and are there for us no matter what. They are truly a gift. As we remember 2017 and all its successes, we must also remember those we were not able to help. For their sake, we must continue striving to do better. Join us in this fight to be their voice and make the world a better place for THEM…and let's make 2018 a success for even more little lives.
Peace, Love, and Happy Tails!
Debbie Dodd
Director, A New Leash on Life, Inc.