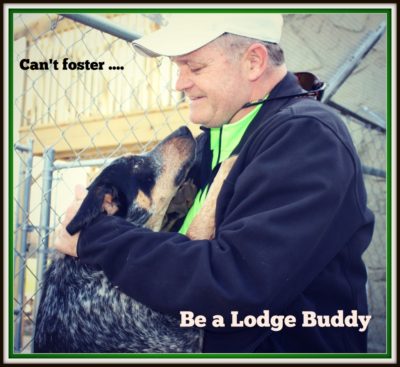 You want to help save our homeless pets but you can't adopt or foster? Well we have something really important you can do to make a difference! We have many adoptable dogs that live at A New Leash Lodge Adoption Center. These dogs need to have relationships with people that can help them love and trust humans. Dogs are incredibly social animals and can sometimes become lonely and depressed. This is why we would like to start the Lodge Buddy Program.
A Lodge Buddy would need to be at least 21 years old and be willing and able to come to the Lodge and spend time with their buddy at least one time a week. The first three visits would take place at the Lodge under the supervision of our staff until you and your Buddy are well acquainted. After three visits we would like to encourage you to take your Buddy on outings if you feel comfortable doing so. We would suggest activities such as walking, hiking, visits to your home or other dog friendly locations.
We would also encourage each Lodge Buddy to participate at Adoption Events if your schedule allows. Having an advocate present for a dog at an adoption event greatly increases the likelihood that dog will get adopted. It gives potential adopters someone to talk to about the dog and gain valuable insight into their personality.
We are really excited about the new Lodge Buddy Program and how this may improve the quality of life and the adaptability of each of our Lodge Dogs. If you are interested in participating in this new program please send an e-mail to: Karen@anewleash.org and put "Lodge Buddy" in the Subject Line. I will meet you at our Lodge and help you choose the perfect dog for you!